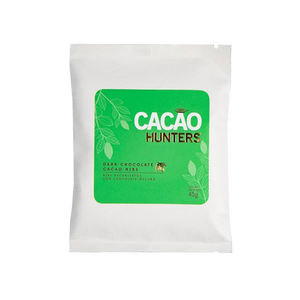 This is where the jungle meets the snowy peaks of the Sierra Nevada de Santa Marta; where the Arhuacos live, a special cocoa emerges. The cacao nibs made with this cocoa, covered with the finest chocolate, results in this healthy snack, to delight any palate.
Cacao Nibs covered with Sierra Nevada 64% chocolate: Award winning - International Chocolate Awards 2016 World Gold

Convenient to eat at any time of the day, or to add to your smoothies.

With each purchase of our chocolate, you are directly helping to preserve a rich heritage of cacao cultivation and ensure a fair income and sustainable practices in Colombia's cacao communities.