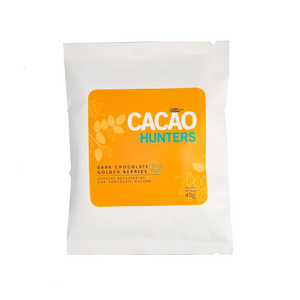 Golden Berries are a source of vitamin A,B and C. They have fiber, potassium, iron and zinc, that makes them the best fruit for a snack or to eat between meals. Covered with our Sierra Nevada 64% chocolate that has magnesium and manganese, the perfect antioxidant.
Covered with Sierra Nevada 64% chocolate: Award winning - International Chocolate Awards 2016 World Gold

Convenient snack to eat at any time of the day.

With each purchase of our chocolate, you are directly helping to preserve a rich heritage of cacao cultivation and ensure a fair income and sustainable practices in Colombia's cacao communities.