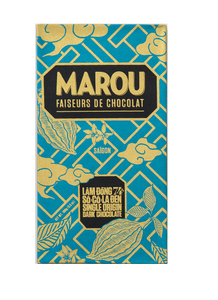 This rare and delicate chocolate is made in micro-batches from cacao beans in which this cacao thrives at the foot of lush forested hills in Vietnam's central highlands between Madagui and Bao Luc. Lam Dong Province's cool mountains yield a mild chocolate, but further brought to life with traces of prune, raisin and espresso.
Award: NorthWest Chocolate Festival of Seattle 2014 - Best in Show

Intense with hints of dried fruit

Hand-crafted, bean to bar, single origin chocolate within a premium, design-led packaging.