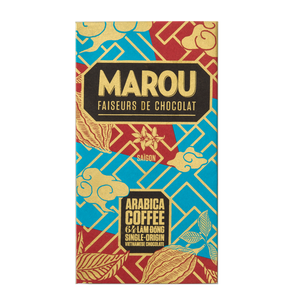 The finest Arabica beans in Vietnam thrive in the cool mountains around Dalat, the mountain capital of Lam Dong Province. Marou gets some of its most inspiring cacao just below town, in the steamy jungle of the Madagui District. Coffee and cacao met somewhere on the winding road from Madagui to Dalat; we don't think you'll forget the encounter.
Origin Plus range invites other flavours to join cacao into the chocolate to offer a more complete expression of the terroir

Coffee meets cacao in the most ideal marriage.

Hand-crafted, bean to bar, origin plus chocolate within a premium, design-led packaging. Made in Vietnam.