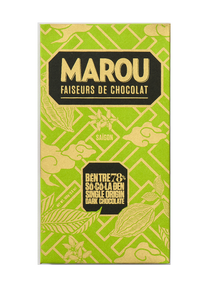 Grown in the shade of the Mekong Delta's sweetest coconuts, Ben Tre Province's cacao speaks to the sweetness and strength of its people. The flavours range from dried coconut to young banana, but always remind us of the good that sprouts out of the ground in Vietnam.
Award: Academy of Chocolate Awards 2013 - Best Chocolate Bean-to-Bar Bronze Medal

An intense yet balanced chocolate with a creamy texture.

Hand-crafted, bean to bar, single origin chocolate within a premium, design-led packaging. Made in Vietnam.