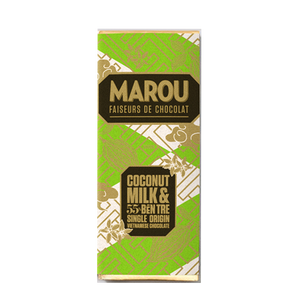 When faced with the prospect of making a creamy milk chocolate, Marou looked no further than Ben Tre Province - a bright green patch of islands renowned for sweet coconuts and strong-willed people. A low dose of the province's cassia-scented cacao gels nicely with the essence of the fruit overhead.
Origin Plus range invites other flavours to join cacao into the chocolate to offer a more complete expression of the terroir

Creamy milk chocolate made with alternative milk - coconut milk.

Hand-crafted, bean to bar, origin plus chocolate within a premium, design-led packaging. Made in Vietnam.